Search engine optimization (SEO) is the process of improving your website's visibility in a search engine's organic search results. It is an ongoing process that requires a lot of leg work if you want to outrank your competitors. To help you stay on top of the ever-changing SEO landscape, we have created an SEO checklist with 8 things your website must have.

Alt tags on all images

Alt tags are code placed behind your images in order to communicate to search engines and certain users what the images are of. Since search engines cannot actually view photos (they are computers after all), they rely on the alt tag to interpret the image and rank it in image search results. Also, people who have disabled images or those with vision impairments rely on the alt tag to understand what the image is depicting. If your images do not have alt tags, go ahead and add them through your content management system or by contacting your web developer. And as always, include your keywords!

Killer Content

One of the most important aspects of SEO is the content. Google puts a lot of focus on the length and quality of your site content. Raven Tools recommend that each page has at least 250 words otherwise the content will be viewed as "thin" and therefore poor-quality. Google also has algorithms, like Panda, which are focused on thin or spammy content. Make sure all of your content is original, helpful, and grammatically correct to stay in Google's good graces.

Prominent Calls to Action

Every page of your website should have a prominently displayed Call to Action (CTA). Whether this is your phone number, a "donate now" button, or an e-newsletter sign-up, you must be pushing your visitors toward some sort of action. Adding this CTA in the header or footer of your website will ensure that it displays on every page.

Responsive Design

Responsive design describes a website that dynamically resizes to fit the width of the device or browser that it is being displayed on, offering an optimal viewing experience for all users. Google actually penalizes websites that are not responsive, meaning that if your site is not responsive, you are less likely to show up in search results. With 34% of internet users going online mostly from mobile devices, Google is pushing websites toward responsive design (Pew Internet). If your site is not responsive but you also are not ready for a full site redesign, you can update your website just to meet the responsive requirements. Just contact your web developer for assistance.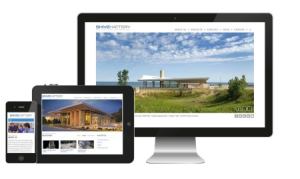 XML Sitemaps and RSS/Atom Feeds

Sitemaps can be in XML sitemap or RSS/Atom feed formats and it is important to submit your sitemap so that search engines can discover all of the pages on the website. XML sitemaps will "give Google information about all of the pages on your site" while RSS/Atom feeds will provide all updates on your site". Thus, Google now recommends that instead of submitting just one of the formats, you submit both. This will allow for optimal crawling. If your sitemap has not been submitted in both formats, and remember this is a new recommendation, contact your web developer for assistance.

Fast Load Time

Google places a lot of weight on the speed and load time of your website. Search engines want their users to have the best possible experience and know how frustrated and impatient we can get with slow load times. Thus, the longer it takes to load, the further you will drop in search engine rankings. Check your site load time by visiting Pingdom. If it is slow, you may need to take a look at the file sizes of your images or talk to your developer about potential upgrades.
How did you perform on the checklist? Were you able to proudly say that your website meets all of these requirements? That's okay if you weren't, there is a lot to do and most companies struggle to stay on top of it all! Luckily, we're here for you. If you need assistance with search engine optimization or any of the above tips, contact Informatics Inc.
photo credit: Simon via Pixabay cc.
---