Welcome to the latest installment of our new Informatics TOPGEAR series, where we're showing off all the cool video and audio production toys we have in house. Send your questions, comparisons and smack talk to Media Director Chris Gray.
Capturing high-definition footage is the first step to creating business and explainer videos that wow your customers, but the process certainly doesn't end there.
You need to edit and stitch that footage together into a compelling story or message, complete with on-screen titles, smooth cuts and transitions, and special effects. While you may be able to capture serviceable footage on your iPhone these days, you'll still need video editing tools to bring it altogether.
Here at Informatics, we're fortunate to have a professional-grade video editing studio built to handle everything from short explainer clips to high-end brand videos shot with 4K video.
Today, take a quick tour of our editing bay, and check out some of the cool tools we can use to bring your video vision to life.

Editing software: Davinci Resolve 17 Studio
We use the Davinci Resolve software suite in our editing bay, which puts us on par with some of the top Hollywood studios. It's one of the most powerful video production tools on the market, and brings together editing, color correction, effects, motion graphics and audio post-production in one package.
When coupled with our high-powered CPU setup, Davinci Resolve gives us the ability to:
Tweak the lighting and color of live shots (our studio stuff is already golden)
Slice, splice and chop media clips and rebuild storylines
Add special effects from slow motion to crazy lighting changes
Add artistic scene transitions and over-screen text
Sweeten and manipulate audio
Davinci Resolve also specifically built to work with our digital controllers (more on that shortly), allowing us to work faster and with higher quality audio/video. That means we can finish your project in less time without compromising the final product.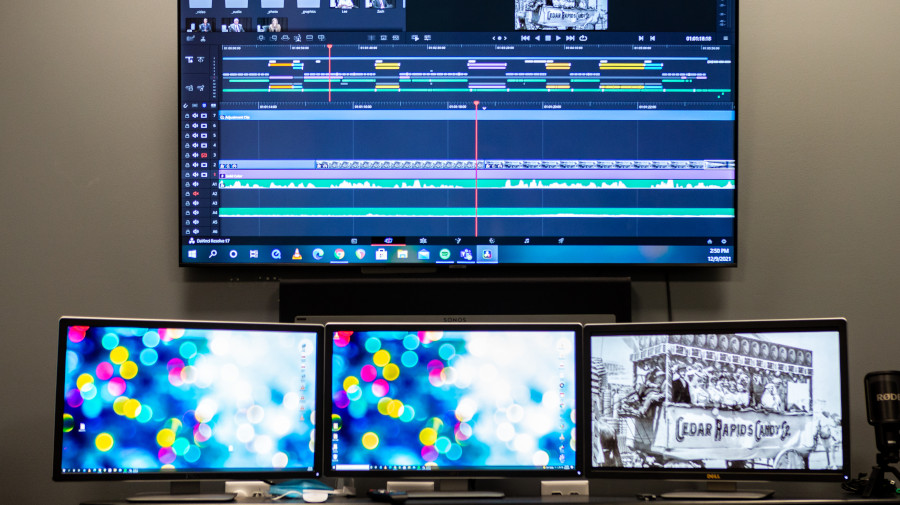 Reference-grade audio & video
Part of our editing studio's purpose (and one of our core values here at Informatics) is to wow our clients with a great experience and video reveal. That process includes impactful audio and vivid video.
We do our editing work primarily on our Dell widescreen monitors set to REC.709, which is a common color space used by most video projects and displays. That helps us see the colors in our project the way they will be shown on a range of viewing devices.
When we're ready to show off our final product, we'll cue it up on our 65-inch Samsung 4K UHD TV and Sonos soundbar and subwoofer system to create a theater-like experience in the middle of an office building.
With the editing workstation located just underneath the television, we can make edit tweaks and changes on the fly as we're reviewing with a client, slashing the time needed for revisions.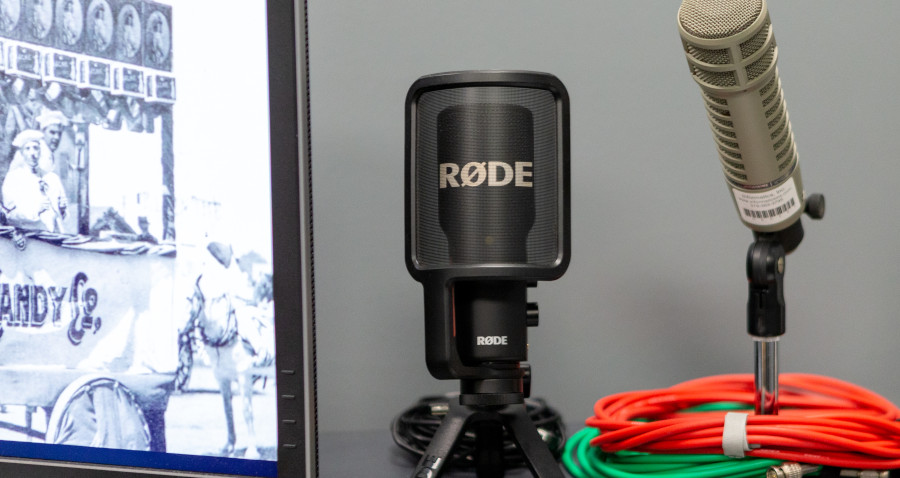 Microphones: RODE USB and Electro-Voice RE20
We always keep at least one broadcast-grade microphone handy while in the editing bay (and usually two) in case inspiration strikes and we need to cut a quick voiceover.
RODE's NT-USB condenser mic offers up versatile, high-quality sound that works with whatever we plug it into, while our Electro-Voice RE20 is a broadcast-grade mic used by broadcasters, podcasters and anyone else looking to capture crystal clear sound. You'll usually find both parked within reach down in the edit bay.
Both mics can be run into variety of digital audio interfaces or directly into our video editing software, making voiceover tweaks fast and easy. It also amps up the creative possibilities when we're scratch-padding and experimenting with storytelling concepts.
"If we have an idea, we can do it—we can capture it right now rather than having to do a bunch of setup or move to another room," Media Director Chris Gray says. "It gives us a bunch of flexibility and creativity while we're assembling video and building storylines.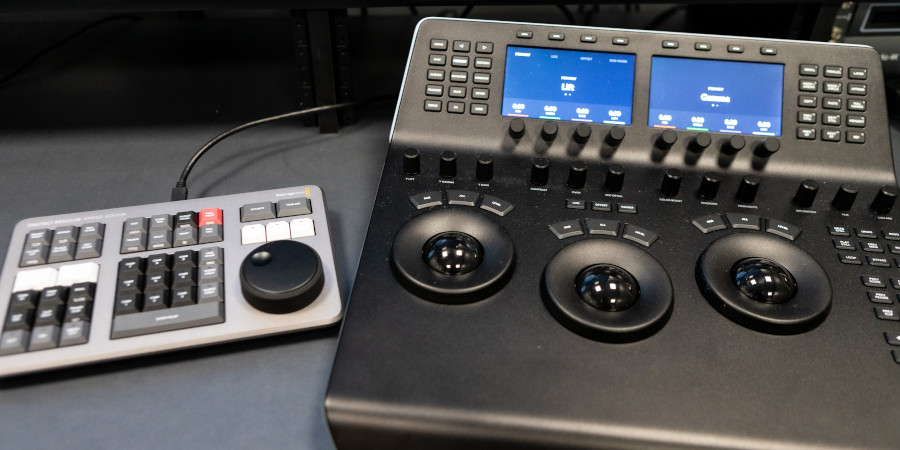 Digital controllers: Davinci and Black Magic Design
Video editing and post-production are notoriously time-consuming tasks, which is why we've adopted a few dedicated tools to speed up the process and provide a more tactile experience.
Our Davinci Resolve Speed Editor (shown above left) serves as an extension of our computer keyboard with all the hotkeys and shortcuts built in. We can use it to navigate mountains of raw footage, perform quick cuts, sync audio tracks and more. It even allows us to switch between cameras if we're working on a multi-camera project.
Our Davinci Resolve Mini Panel (above right), made by Blackmagic Design, adds powerful color correction capabilities to our editing studio setup. It features a variety of correction-control knobs, transport keys and high-res trackballs, along with two built-in displays. The Mini Panel takes what is normally a very complex process and makes it easier to control, so you can create the visual look you or the client wants.
"It's like a giant paintbrush," Chris says.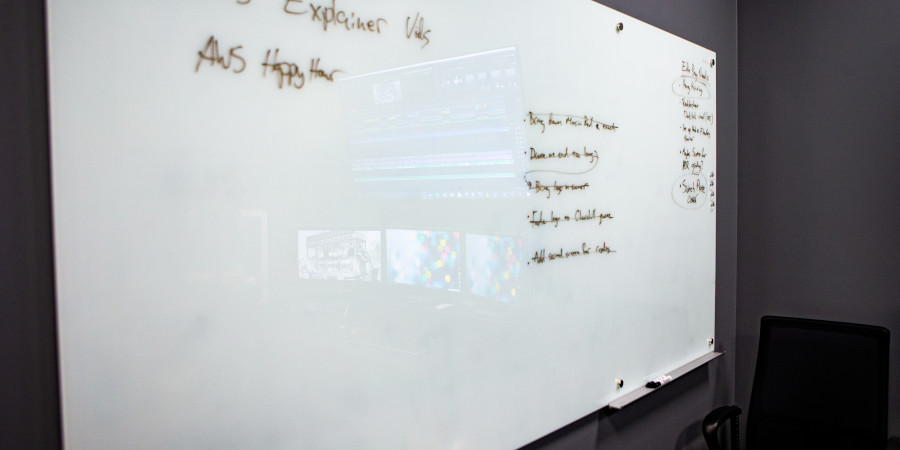 Other studio touches
Informatics' editing bay was intended to be a great workspace as well as one that inspires creativity. To that end, it includes a long glass and magnetic board that we use to organize our thoughts and documentation, and comfy furniture built for hours of brainstorming and review.
Special static-free flooring is another cool feature of this room. That's meant to ensure any physical media we bring into the room—drives, USB sticks, SD cards—are safe from erasure or damage due to an accidental static discharge. How's that for high tech?
If you're ready to take your video production to the next level, give us a call—we're always looking for an excuse to hang out in our edit bay.
---