Each year, Search Engine Land releases a new edition of their Periodic Table of SEO Success Factors. This graphic uses the well-known periodic table to rank top search engine optimization success factors for the year.
According to Search Engine Land, the table is "intended to broadly guide both those new and experienced with SEO to focus on major areas of importance". Keep in mind that most of Google's ranking factors are not publicly known, therefore, this table is not a cheat sheet for the major ranking factors. Instead, it is here to help you better grasp what is likely important and what isn't.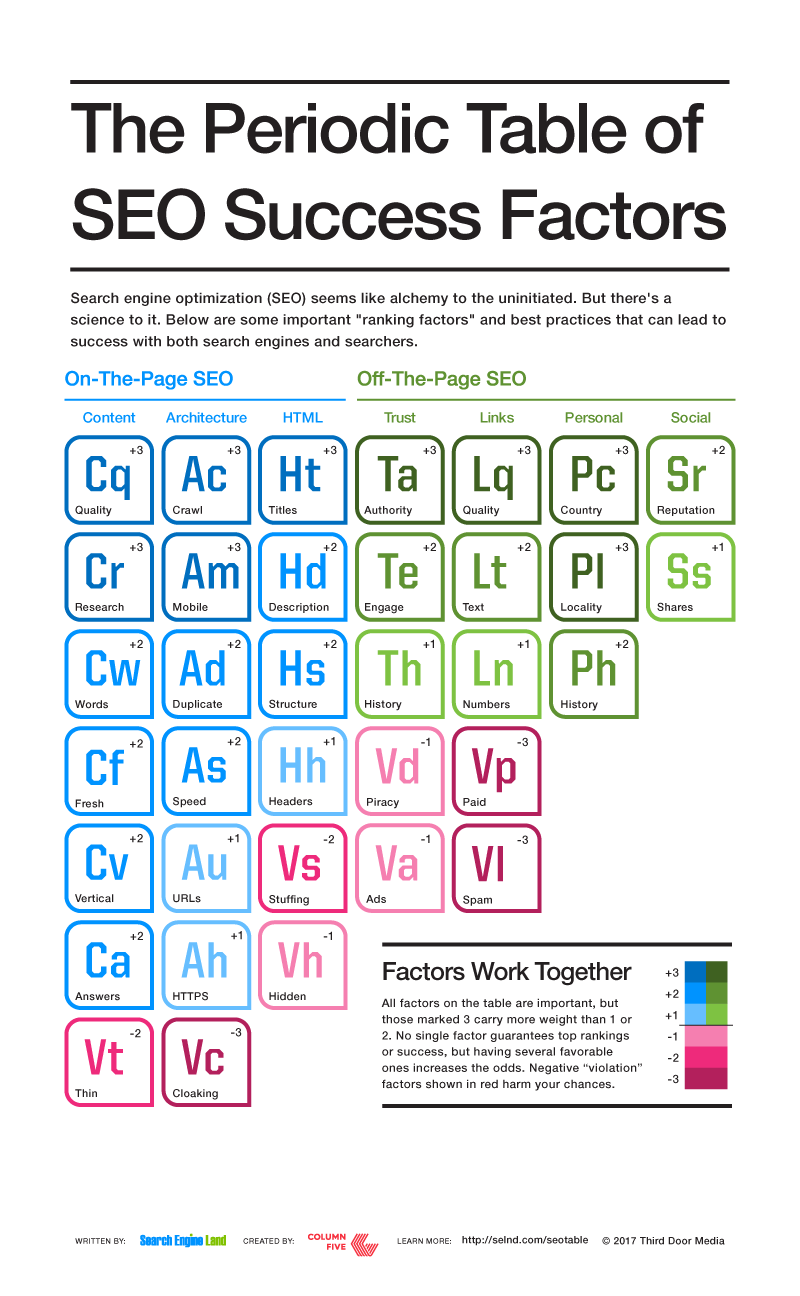 Important Takeaways
We have reviewed the periodic table and identified some of the biggest takeaways regarding this year's top ranking factors.
Content quality is still king
We have been saying it for years and will continue to say it through 2017: content is king. Ensure that your website content is unique, helpful, and keyword-rich. In addition, each web page should have at least 250 words in order to be crawled by a search engine.
Title tags rule
Meta Data is extremely important in communicating to search engines. If you want to improve your search engine rankings, you will need to create unique, descriptive, keyword-rich title tags for every page on your website. Remember: Stay below 55-65 characters!
HTTPs is more important than it has been in the past
Having a web address with the HTTPS application protocol (rather than HTTP) signifies that your website is secure. This has been especially important for e-commerce websites because they provide a sense of security for customers. However, it has become more popular among a variety of businesses ever since Google announced that it would be a small ranking factor.
Link quality remains a top contender
Links have long been important to search engine optimization. Both inbound and outbound links, as well as internal and external links can affect your rankings. And while quantity is important, the quality of your links matters even more. Link-building can be a challenging part of SEO but we recommend giving it greater focus this year.
Locality has risen to the top
Local businesses know best – local search is where it's at! If locality matters at all to your business, then location-based SEO is extremely important. Update your Meta Data, verify your Google My Business listing, and create a local business Facebook page to help boost your rankings.
If you need assistance with improving your search engine optimization in 2017, contact the experts. Informatics Inc. is well-versed in all things internet®! In the meantime, download our whitepaper on need-to-know SEO secrets to get started.
---