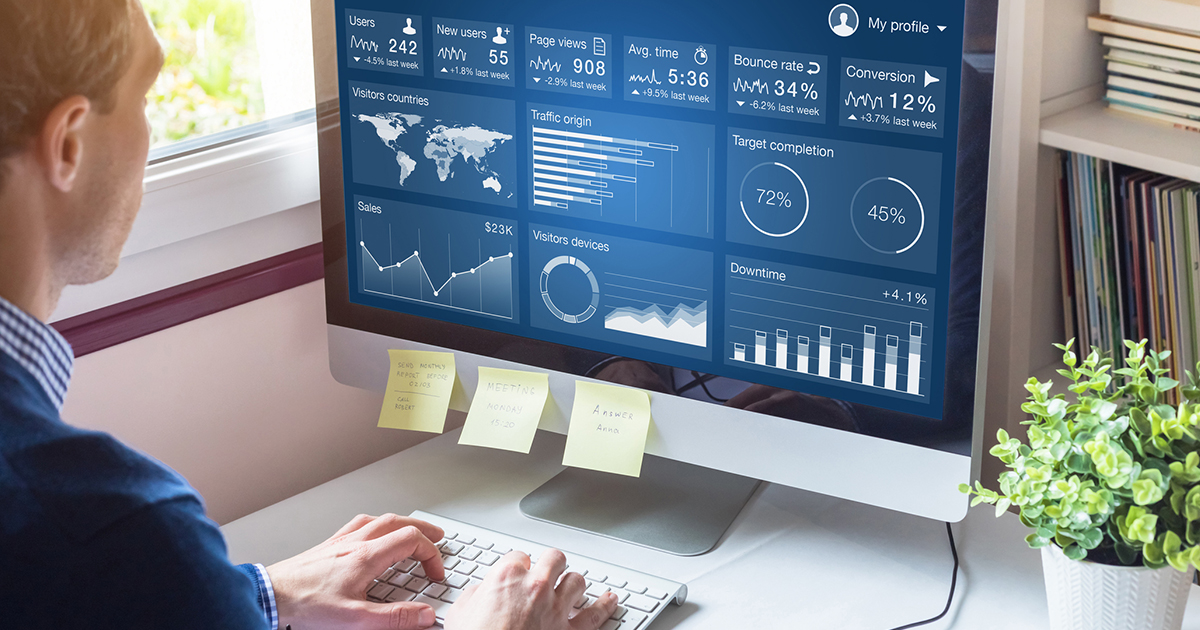 Few things are more daunting than being asked to create a report with the details of your marketing campaigns. Your data is housed in so many separate platforms that gathering your Facebook data with your Twitter data and your Google Analytics data can seem impossible.
Until recently, your best options were to either record all your data manually or to purchase an expensive business intelligence tool. Thankfully for marketers everywhere, Google Data Studio is here to save you time, money, and frustration.
What is Google Data Studio?
Google Data Studio (GDS) is a dashboard and reporting tool that gathers all your marketing data in one place. The platform comes with a variety of charts, tables, and graphs that allow you to visualize your KPIs and see the changes over time. The easy-to-interpret visualizations help you spend less time manually gathering data and more time making strategic decisions.
How does Google Data Studio work?
GDS is not a data warehouse – it doesn't store all your data in one place. Instead, it utilizes direct connections with other Google products to pull exactly the data you need into your dashboard.
GDS also features a wide range of partner connectors that connect to an almost unlimited amount of data sources, from Facebook Ads to your CRM and more. Connecting all your data sources is easy – just log in to each platform and grant GDS access to your metrics.
So how can Google Data Studio make my life easier?
1. Data becomes more accessible
GDS makes it easy for marketers of all experience levels to create eye-catching dashboards. A handful of templates are built into the tool, and many partner connectors provide platform-specific templates that help you create reports instantly.
2. Dashboards are highly customizable
Nearly every aspect of GDS dashboards can be customized to meet your reporting needs. Not only can you change color schemes and upload logos to meet your brand guidelines, you can customize the data in each individual widget. For example, you can set one chart to always report data from January 2019 while the chart next to it captures data from February 2019 onward. This way, regardless of the timeframe you choose for the entire dashboard, those data points are set in stone.
3. Data is updated in real-time
Gone are the days of waiting until the end of the month to see how your marketing efforts are performing – with GDS dashboards, your data will be reported in real-time. This opens the door for more strategic conversations, as you'll be able to monitor and adjust campaigns more quickly.
4. Sharing data is easy
Say you want to share your dashboard with multiple stakeholders, both internal and external. With the click of a button you can send a link to everyone who needs to see your data. They won't even need to login with a Gmail account, unless you would rather they do. Stakeholders will be able to change the date range and watch how the data changes, but they won't be able to alter any widgets.
If you would rather send the dashboard as a static report, that's an option too. Either download the entire report (or specific pages) as a PDF and distribute it yourself or set a frequency for an email to be sent with an attached PDF of the dashboard.
5. Keep your costs low
Convincing your team to go all-in on a new tool can be challenging, but GDS makes it easy for you: it's free. Seriously. Using GDS and its suite of Google Connectors won't cost you a thing. Utilizing one of the GDS partner connectors will cost you a small fee, but the expense is far below what you would pay for a traditional business intelligence tool.
Google Data Studio dashboards won't just make your job easier, but they'll change the way you think about your data. Contact us today to learn about our custom dashboard solutions and how we can help take your data-driven decision-making to the next level!
---