The phrase "great company culture" seems copy-pasted into every job description out there these days. Employers say it knowing that the work environment matters to candidates, but few do anything more to prove it than tack the phrase on the "about" section of their application.
Here at Informatics, we're always looking for ways to put more weight behind our words. We want to show that we're putting in the work to make this a great place to collaborate, learn, and prosper.
In that spirit, we were honored to apply for and be named Iowa's first Workhuman certified company.
What is Workhuman?
Workhuman is an international organization with a simple mission: to make workplaces more "human." It's not a state-mandated program or annual compliance requirement, but a movement companies choose to be a part of.
The group takes a magnifying glass to highly ranked companies across the globe, with the goal of deconstructing the meaning of "great culture." They break that lofty phrase into measurable objectives so leaders can gauge their workplace environment.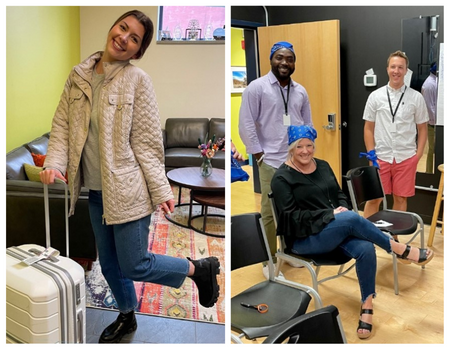 Workhuman prompts companies to answer questions like "Are we recognizing our employees?" and "How are we making a greater impact?" It has also built tools for workplaces to better assess the employee experience, including the organization's new certification program.
Their work has been extremely influential as more and more companies look to improve their cultures. More than 6 million people in 180 countries have joined the organization's commitment to changing the workplace, including major players like LinkedIn and Moderna.
What's it mean to be Workhuman certified?
A Workhuman certification isn't something you receive for completing a quick online course—It involves a thorough application and review process.
To earn the certification, an organization must prove its excellence in the following areas:
Purpose-Driven: Employees understand their impact and feel a direct connection between their jobs and the company's values.
Appreciation: A percentage of payroll is allocated to employee appreciation to ensure everyone regularly experiences meaningful recognition moments.
Work-Life Harmony: The full humanity of every employee is acknowledged and celebrated.
Belonging: Employees are valued as their authentic selves at work, with mental health/wellbeing and flexibility initiatives prioritized.
Opportunities for Growth: Employees at all levels have opportunities to learn and develop, with feedback and guidance that helps map their future inside (or outside) the organization.
Fair Pay: Employees have confidence that decisions affecting pay are unbiased and fair.
Safety: Employees feel a sense of inclusion and safety when it comes to learning, contributing, and challenging the status quo. They have control over their personal information and feel secure that their data is protected.
Environmental and Social Stewardship: Employees feel pride in how the organization cares for society and the environment.
Receiving this certification is proof that Informatics is putting in the work to develop a great company culture. While our employees and those who work with us know this is a special place to work, becoming Workhuman certified adds another layer of proof.
We also want applicants to know the kind of culture we've created. And since we're experiencing tremendous growth, we're doing a lot more hiring. If you or someone you know is looking to join a progressive company and make an impact, Informatics is looking to expand our team. View our open positions!
Interested in joining a Workhuman certified team?
Check out our open positions!
---