Wow, can you believe it's almost the end of the year already? Here at Informatics, 2021 has absolutely disappeared between navigating the return to our (redesigned) office, new hires and a slew of new clients. We hope your year has been just as exciting and productive!
December is always filled with planning and preparation, but we also want to take a moment and appreciate all the things our team has accomplished this year.
It hasn't always been easy, but we've banded together and always made it work while still wowing our clients. We're darn proud of this team.
We feel strongly that our five core values are a big factor in our success, so we've organized some of our biggest achievements of 2021 by each value to show how we're putting them into action.
People First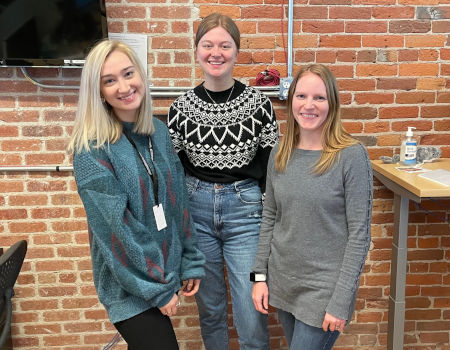 Here at Informatics, we value people above all else, and we were lucky to hire six of the state's best and brightest this year as our agency grows! Joining us in 2021 were:
Adam Moore, Senior Writer & Storyteller
Carrie Karkosh, Business Growth & Marketing Coordinator
Isabelle Fiester, Digital Marketing Coordinator (center)
Haley Johnson, Digital Marketing Coordinator (left)
Melissa White, Bookkeeper (right)
Danica Forsyth, Digital Marketing Project Manager
We also welcomed two new members to the Informatics family this year: Davis Moore, born in March to Adam and Ashley Moore, and Clay Thomas (right), born in December to Megan and Seth Thomas.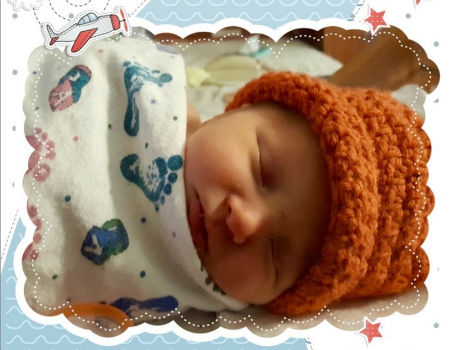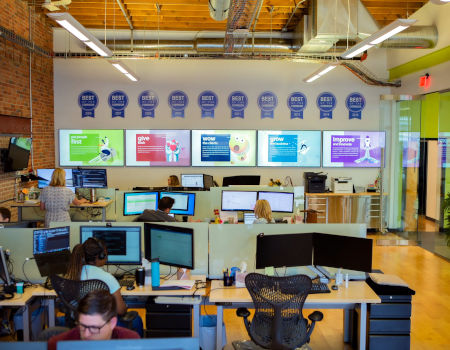 Jeff Stephens, our long-time design guru, moved three time zones, from sunny San Diego to Charlotte, North Carolina, scrambling his recurring calendar times.
Those of us back here in Cedar Rapids, meanwhile, were treated to a new open-plan office, complete with mounted monitors and sit-stand desks.
We finished our first full year with the Entrepreneurial Operating System (EOS, right), a proven set of management tools that help align the purpose and goals of our agency. The EOS process is built around quarterly goals, clear documentation and "getting the right people in the right seats."
We've seen great organizational results since adopting EOS, and look forward to sharing what we've learned in the coming year.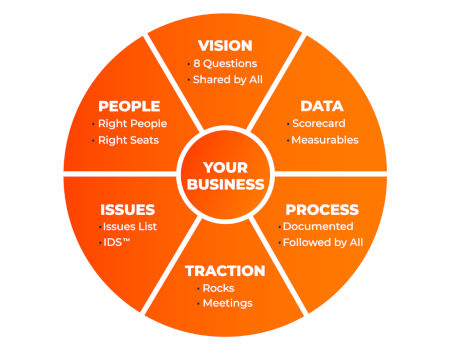 Wow the Clients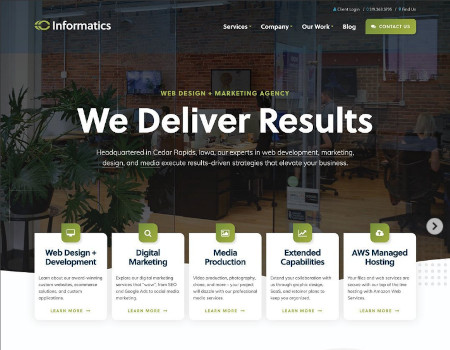 We were proud to create more cutting-edge digital work that "wowed" our clients this year, thanks to our proven people, processes and results. Among our clients launching new websites were CauseTeam, Hames Homes and Women Lead Change (WLC). Our own little corner of the web got a refresh, too!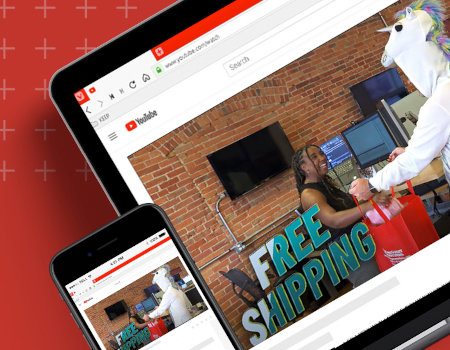 Grow the Business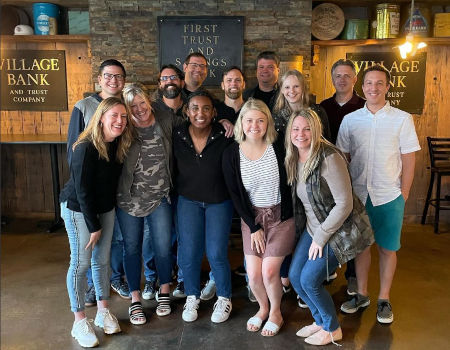 It was a year of growth for us, to be sure. Thanks to our team's hard work and creativity, we managed to retain 100% of our existing marketing clients. We also grew with new clients from a range of industries, including education, energy, finance and retail.
We were named an AWS Select Consulting Partner this year, making us only the second company in the Iowa City-Cedar Rapids Corridor to hold the designation through Amazon Web Services.
Being an AWS Partner agency allows us to offer even more cloud expertise to our clients, and provide a truly full spectrum of digital services. Next stop: AWS Advanced Consulting status!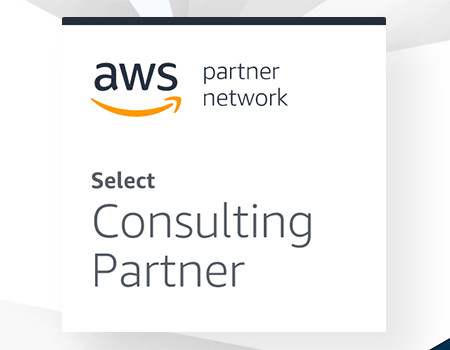 Improve & Innovate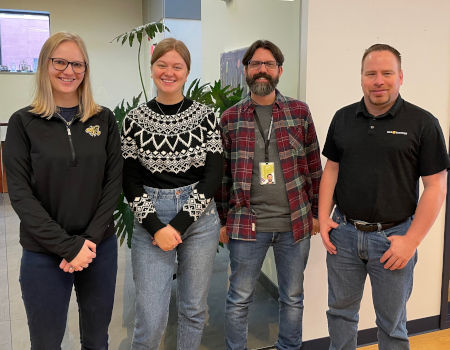 We're proud of our team members who continued to expand their skillsets in 2021. Our certified team members now include:
Casey Franks, AWS Certified DevOps Engineer – Professional
James Palas, AWS Certified Solutions Architect – Associate
Adam Moore, AWS Partner Accredited – Business
Maddie Shepard, Google Analytics Certified
Isabelle Fiester, Google Shopping and Display Advertising Certified
Chris Gray, Davinici Resolve Editors Certification
Part of improving and innovating means looking for efficiencies and new tools to make us more productive. This year, we completed a major integration of SharpSpring into our workflows.
This industry-leading platform combines CRM, content building and lead scoring tools to automate and improve our digital marketing processes. We're excited to be able to offer its capabilities to you!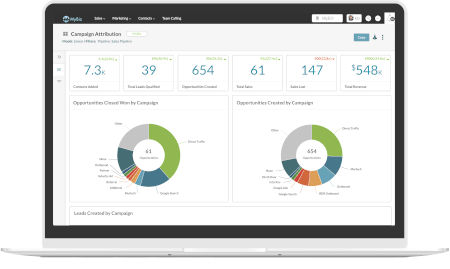 Give Back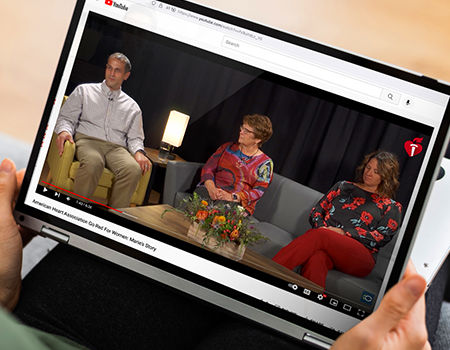 We love our community where we live and know we're all better by giving back. This year, our give back efforts included special video projects for human services not-for-profit Waypoint, and the Eastern Iowa chapter of the American Heart Association.
We also announced a new not-for-profit partnership program, called the Starfish Initiative, this year with local arts and culture organization Mirrorbox Theatre. Look for more on this exciting project in 2022!
We were also excited to help Iowa City Pride with graphic design contributions, GoPhilanthropic with video production services, and most recently, Waypoint, where we helped in-need moms pick out gifts for their kids.
We are grateful to all of our employees who gave of their time and talents to make our community a better place!
A final thanks to all of our clients, vendors and business friends who continue to work with us or offer us up as a referral—we're honored to have won your trust. And if you aren't working with us, give us a call. We'd love to help you meet your business goals in 2022.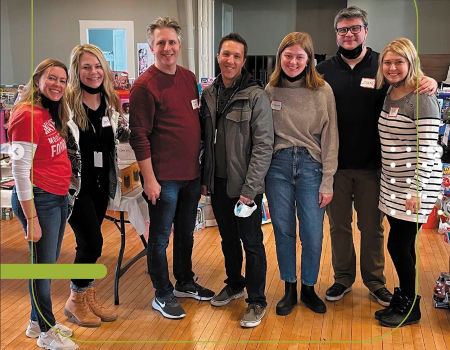 ---