Welcome to the first installment of our new Informatics TOPGEAR series, where we're showing off all the cool video and audio production toys we have in house. Send your questions, comparisons and smack talk to Media Director Chris Gray.
Whether you're working on a short explainer video or custom portrait photography for your company website, it definitely helps to have the right creative space.
We're fortunate here at Informatics to have an oversized studio and a deep toolchest built to handle just about any video or photo project we can dream up, from intimate interview sets to staff dance parties.
Our studio space allows us to capture super smooth 4K video and control every variable of the creative environment, from the sound to the lights. We can create a totally natural look or an intense dramatic scene, or put you in front of the green screen and transport you to another place entirely.
Is this Hollywood? No, it's Iowa.
Today, we're taking you on a quick tour of our studio and all the cool tools that make it a great place to capture your next business video:
Video camera: Sony PXW-Z280
Three of them, actually. These are some of Sony's most advanced video cameras to date, with precision auto focus, integrated light filters and broadcast-grade 4K sensors that capture the most incredible images we've ever seen. It can shoot at 60 frames per second, which is great for slow motion, and has a built-in four channels of audio for when we're out in the field and trying to work light.
The PXW-Z280 also allows us to shoot HDR (high dynamic range) video, which is similar to shooting in RAW format with a DSLR. We can retain more image data—colors, contrast, exposure, etc.—and tweak it in post-production, giving us total control over the look of the finished video.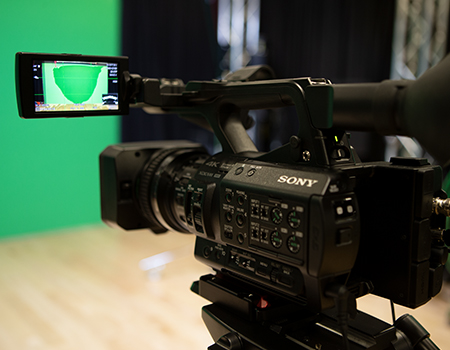 With three cameras, we're able to capture multiple angles and elevated shots for cinematic effects, while our adjacent control room gives us the ability to switch cameras on the fly for live streaming projects (more about that room in another post).
Studio Lighting: Kino Flo, Astra lights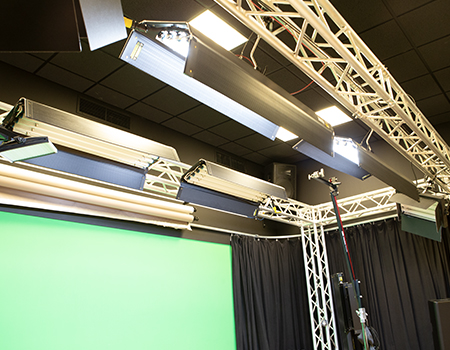 Your video camera is only as good as the light it captures, so we've invested a lot of money and time to build the best studio lighting rig we could.
We primarily use Kino Flo lights, which have become a standard in the HD cinema, television and digital imaging industries, but we're always on the lookout for new products and technologies that can help us stay on the leading edge of video production.
Our current lighting inventory includes:
4 Kino Flo 4Bank rigging lights
2 Kino Flo Diva-Lite LED panel lights
2 Kino Flo Double panel lights
2 Astra 6X Bi-Color LED panel lights
Our lights can all be tuned to whatever power or color temperature we need, while our wide assortment of rigging and grip equipment gives us precise control over their placement. The emergence of pro-grade LEDs also keeps the equipment light and maneuverable, which is appreciated when we need to reconfigure the set quickly or head outside the studio.
Monitor: Atomos Sumo 19
One of our newest additions to the Informatics studio, the Sumo 19 monitor is a killer studio tool bringing together video and audio monitoring and control.
As a quad-channel switcher, our director can use it to watch and control multiple cameras at once on multi-camera shoots, while also recording and/or broadcasting a fifth "channel" of our live-switched feed.
Its 19-inch LCD panel boasts a wide dynamic range, and enables us to make the most of our Sony cameras' HDR capabilities. We can also see our audio settings at a glance, which is invaluable when multitasking on the set.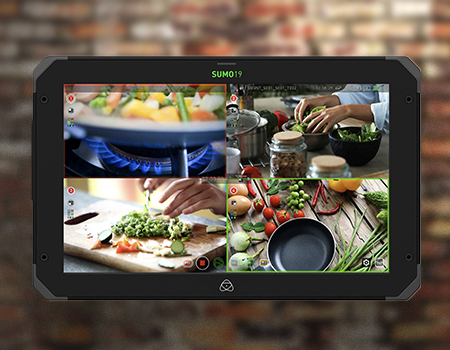 Audio Capture: Sound Devices MixPre-10T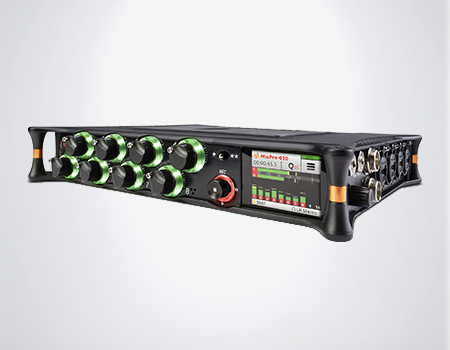 Great video isn't worth much without great audio, so we've also made sure to invest in pro-grade audio production equipment. We especially love our Sound Devices MixPre-10T, which can capture high-quality, ultra-low noise audio anywhere from the studio to the field.
We can use it to capture as many as 10 mics at sampling rates up to 192 kHz (known as high definition audio), and mix it all down to one track with the MixPre's portable mixing capabilities. It can also generate its own timecodes, keeping our audio and video in-sync—crucial for a smooth post-production process!
When coupled with our extensive collection of Sennheiser lavalier and broadcast mics, we can capture pristine audio that pairs perfectly with our ultra-crisp 4K video.
Other cool stuff in our studio
Steel lighting trusses
These provide a convenient and sturdy surface for hanging lights, cameras and other items used in video production. Our space is fully configurable, and we can stage just about anything you have in your head.
Chroma key-ready green screen
Stretching the length of our studio wall, we can create an immersive setting for your next video and use chroma key technology to seamlessly place you in the middle of it. Our clients can use a background from our online library or supply their own.
Teleprompter
A teleprompter can make that corporate video a lot easier to produce, especially when working with talent that isn't used to being on video or reading a script. Our Mac-based software allows us to easily import your script or document and make it readable from whatever distance you need.
Monitors galore
With multiple flat-screen TVs and video monitors littered around the studio, you'll never wonder how the shot looks. They're mounted on carts, and can be positioned exactly where you need them.
As creative professionals, we're still big believers in the idea that "it's the archer, not the arrow" when it comes to great storytelling—but we also know it takes professional tools to produce professional results. If you're ready to take your video production to the next level, give us a call—we're always ready to put this studio to work.
Stay tuned for more installments of Informatics' TOPGEAR series coming soon!
---