With many social media platforms working to prioritize friend and family updates over content from brand pages, it seems like the only way you can truly get your message in front of your audience's eyes is to pay for ads. With these algorithm changes, it makes sense to question why your brand needs organic content. If your message isn't even being delivered to everyone who has liked or followed your page, why should you take time out of your day to create and post organic content?
You might be surprised to hear that 77% of consumers are more likely to buy from brands they follow on social and 67% of consumers say they are more likely to increase their spending with a brand they follow on social media (Social Media Today). People are no longer simply buying what you're selling, they're buying who your brand is and whether you align with their views and how they see the world. Integrating organic content into your digital marketing strategy is an important part of letting your audience see this.
What is Organic?
To start, it's important to understand what organic content is. A simple definition is that organic content is anything you post to your social media profiles that you don't pay for. This can be anything from regular posts and comments, to shares or images. Basically, it's content that your audience can come across without you having to pay to get it seen.
Don't Bust your Budget
Which brings us to our first point. Organic content is great because it's cost-effective. It's a way for you to spread your message and let your audience know what your brand is about without having to pay for it. Plus, it gives you the chance to test what kind of content your audience responds and engages with. If you find that a certain type of post or image seems to always get a ton of shares, likes, and comments, then you might want to try creating an ad out of it. On the flip side, if a post you thought would do amazing seems like it's just not resonating, there's no harm because you didn't put any marketing dollars behind it.
Define your Voice
Along those same lines, it gives your brand the chance to show your target audience who you are. When a consumer sees an ad, it's going to be an automatic thought that the brand is trying to sell them something. Organic content gives you the chance to highlight your brand's values and culture, while appearing genuine to your audience. You can also use this content to learn more about who your audience is and if the people you're trying to target are the people who are responding to your message.
Listen to your Audience
Did you know that 54% of digital consumers use social networks to research new brands or products (Oberlo)? Having an organic social media presence not only gives these consumers a place to go, but it also gives reviewers a place to go. If a customer feels like they had a spectacular experience with your brand, you want potential new consumers to be able to see this. And if reviewers feel like they had a horrible experience, this gives them a place to voice that opinion while also giving your brand the chance to respond. 71% of consumers who have had a positive experience with a brand on social media are likely to recommend the brand to their friends and family (Oberlo). This interaction (to both positive and negative comments or reviews) shows that your brand hears what your audience is saying and wants to build lasting relationships.
It's important to remember that your social media presence doesn't have to be paid vs. organic. They're both a team and if your brand isn't fully utilizing both, you're missing out on building your audience and introducing new consumers to your brand. Not sure where to start with your organic online presence? Contact the experts at Informatics!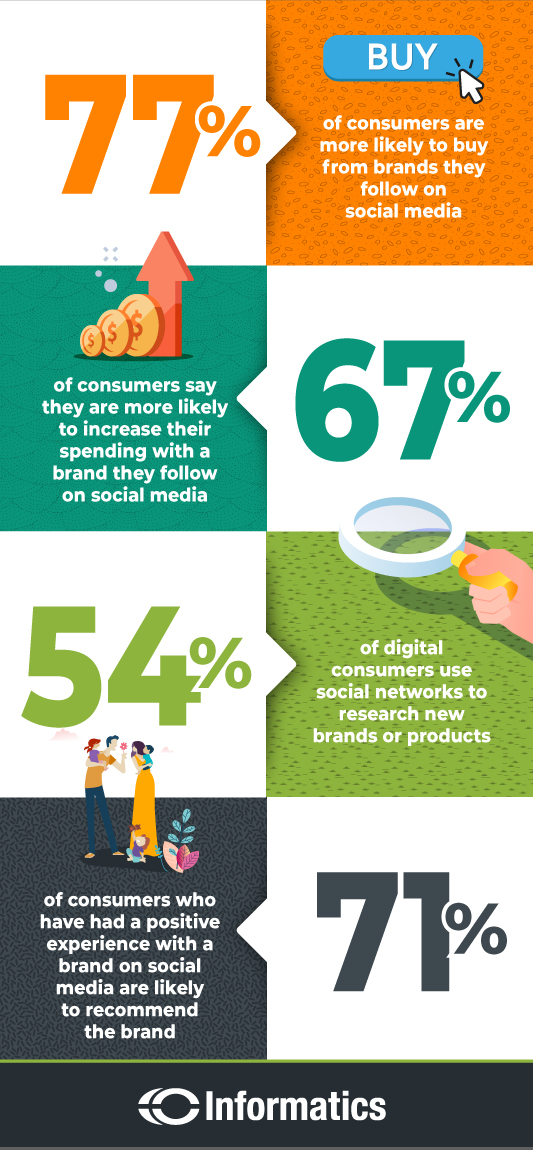 ---