Welcome to the latest installment of our Informatics TOPGEAR series, where we're showing off all the cool video and audio production tools we have in-house to bring your vision to life. Send your questions, suggestions and gear snobbery to Media Director Chris Gray.
Whether you're looking to cut a voiceover for your latest animated video or get into podcasting (like the group from Cedar Rapids' Downtown Rotary club, shown above), high-quality audio production is essential for putting your brand's best foot forward.
Audio quality isn't just window dressing when it comes to your multimedia projects. New research has found that poor-quality audio makes us "think less of the speaker and what they're saying," while other studies note that videos with great sound keep people watching longer.
Here at Informatics, we've invested a lot of time and money into developing one of the Corridor's top video production spaces, but we've also focused on our ability to capture pristine sound, whether here in our Cedar Rapids studio or out in the field. That takes professional-grade equipment and the know-how to put it all together in the digital realm.
Today, we're taking you on a quick tour of our sound booth and all the cool tools that make it a great place to capture your next podcast or video voiceover.
The Audio Production Tools We Use at Informatics
Recording System: Universal Audio LUNA Recording System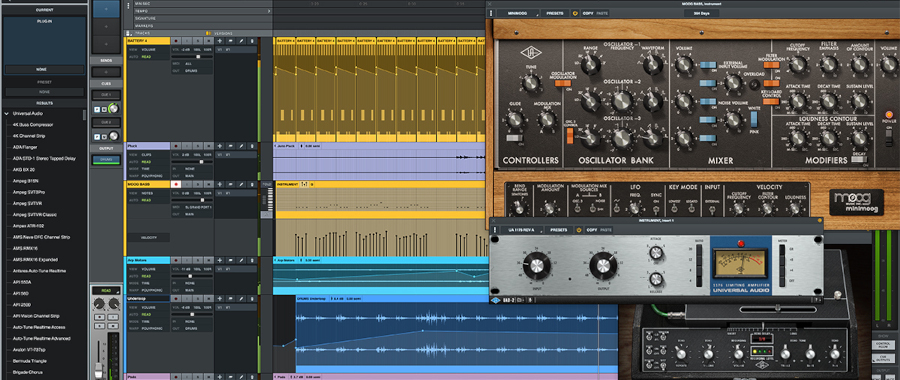 There are hundreds of choices for recording digital audio these days, from free options like Apple's GarageBand to top-of-the-line Pro Tools rigs. We've gone all in on Universal Audio's LUNA Recording System, which is a Mac-based recording application designed to emulate world-class analog recording gear.
The LUNA system pairs with our Apollo Twin audio interface from UA and does everything you'd expect most modern audio suites to do, including real-time monitoring, editing and mix automation. The latest version also allows us to track and mix through emulations of classic API and Neve consoles, as well as vintage tape machines to add a warmth and richness you can't find in other platforms.
Audio Interface: Universal Audio Apollo Twin

This desktop recording interface is small but mighty, connecting our sound equipment with the LUNA platform and converting our analog signals to digital data that our Mac can understand.
The Apollo Twin system offers up gold-standard audio quality with incredible dynamic range and clarity. Its advanced hardware also gives us access to innovative microphone preamps that can emulate vintage tube preamp units that now go for tens of thousands of dollars. That explains why it's used by so many modern artists, from Kendrick Lamar to Chris Stapleton—and here for nearly all of our voiceover and audio production work!
Field Recorder: Sound Designs MixPre 10-T

We covered this unit in our TOPGEAR installment on our video studio, but Sound Designs' MixPre 10-T mobile DAW is such an essential part of our audio production work that we'd be remiss if we didn't include it here.
We love the MixPre 10-T for its ability to capture as many as 10 mics at sampling rates up to 192 kHz (known as high-definition audio), all saved to an SD card. It offers eight ultra-low noise mic preamps with adjustable limiters, and a sunlight-readable color touch screen so we have full control of the sound, even out in the field.
The MixPre 10-T can also generate its own timecodes, keeping our audio and video in-sync—crucial for a smooth post-production process.
Studio Mixer: Mackie ProFX16v3 Mixer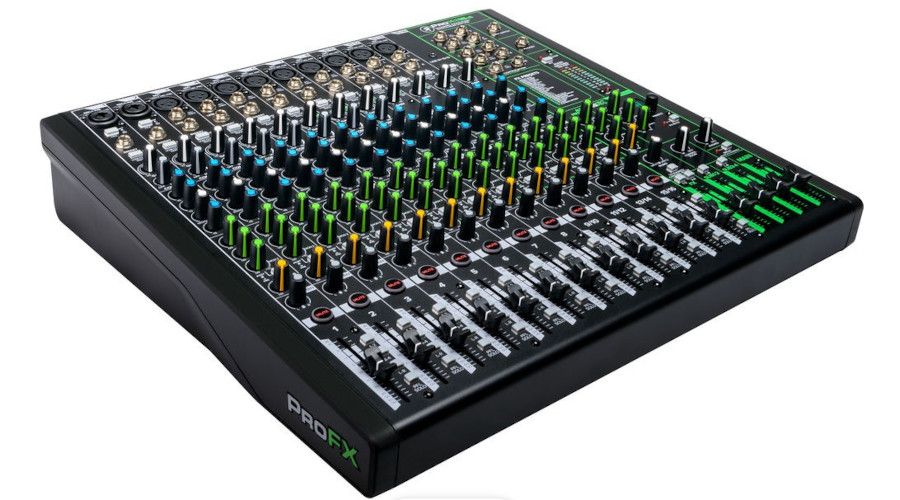 This 16-channel, professional USB mixer gives us professional-grade features in a portable package that makes it great for on-site work (like recording a podcast at your office).
Each channel on the Mackie ProFX16v3 includes high-quality mic preamps, phantom power, compression and EQ, meaning we can use any mic to get the exact sound we want. It also allows us to record via USB at high-definition sample rates, and lets us route different sound mixes between listeners and our recording software, providing a super-flexible workflow for our specific needs.
Need help nailing your audio?
Our media experts can help you capture the perfect sound for your next podcast or video.
Microphones: Electro-Voice, Sennheiser

Our go-to studio and podcasting mic is the Electro-Voice RE20 broadcast microphone with Variable D, which is an industry standard in radio, broadcast, podcasting and sound engineering. This mic offers a smooth, natural sound, and truly excels at close-up vocal work with its internal pop filter and large-diaphragm dynamic element.
If we need a different vocal sound, we might pull out our Electro-Voice ND86 dynamic supercardioid mic, which boosts and cuts key high-mid frequencies to help your voice cut through the mix. The ND86 offers a smooth and detailed sound, and is well-isolated from low-frequency bumps and thumps, so even people not familiar with handling a mic can get great audio.
If we're shooting an interview video or something on site, we'll usually bring our Sennheiser EW 112P G4 wireless lavalier mics, which capture high-quality audio right from your lapel. This broadcast-standard mic is easy to use, fast to set up and offers rock-solid wireless transmission, meaning you don't have to worry about missing a word.
While your fans may be willing to accept grainy, jittery or sub-optimal video, audio is the one thing you need to nail to build your digital brand. If you need help capturing better audio for your explainer video or podcast, give us a call—we're always looking for cool new projects that let us use our toys!
---