We've been preaching the importance of online video for years now when it comes to building a brand, but don't sleep on audio, either.
Podcasts and podcast advertising are a great way to reach your audience where they're at, whether that's at work, in the kitchen or at the gym. As of this year, roughly 75% of the U.S. population aged 12 or older reported listening to online audio in the last month, with "super listeners" (those listening to five or more shows) consuming more than 11 hours of content each week, according to Edison Research.
That's a lot of potential customers for your brand—especially if you partner with the right shows.
Podcasts are also a surprisingly affordable advertising medium, especially when compared to other mass-market options like television or radio, and are proven to drive conversions. Consider these recent statistics from Buzzsprout:
60% of podcast listeners have bought something from a podcast ad
69% of respondents say podcast ads increase their awareness of products, brands, and services
72% of listeners who have listened to a particular show for four or more years have purchased a sponsored ad
So when it's time build your next marketing strategy, consider allocating some funds for podcast advertising if you haven't already. Here are a few strategic tips from our digital marketing experts to get you started.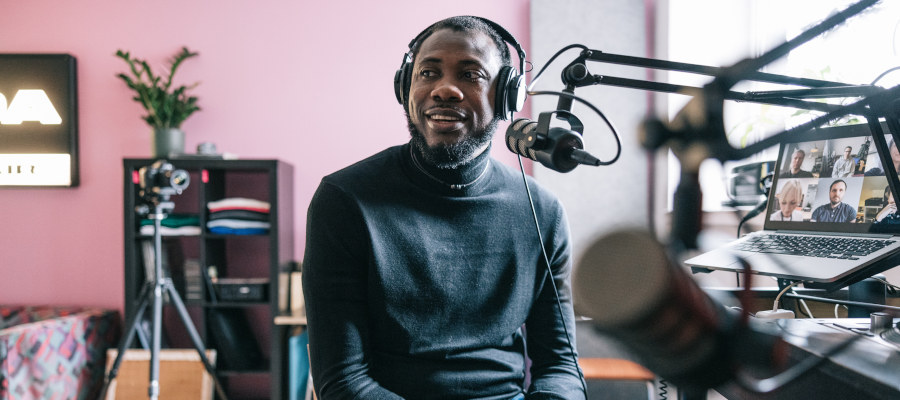 3 Different Ways to Advertise on a Podcast
Apart from starting your own show, there are three main ways you can get your message out via podcasts:
You can pay for the host to read your message during the breaks.
You can produce an audio (programmatic) ad that can run in designated spots during a show.
You can sponsor or underwrite a show.
Using Host-Read Podcast Ads
Podcasting was founded on the host-read ad, and they continue to make up a majority of ads (around 55%) of the $2 billion podcast ad market.
As its name implies, a host-read ad is when the show's host reads a script or delivers talking points about your product or service. It can happen either live during the show (known as a "baked-in" ad) or in a pre-recorded spot that can be dynamically inserted into a show's catalog.
Host-read ads are a popular choice because they build on the influencer nature of the podcast host themselves. With so many shows out there today (an estimated 2.5 million, give or take), the fans of a specific show are likely to be passionate followers and brand advocates.
Receiving an audio endorsement from a show's host—even though it's plainly an ad—will earn you street cred with their followers.
Using Programmatic Podcast Ads
Programmatic podcast advertising refers to the use of pre-produced ads that can be served up dynamically among a podcast's catalog. These require specific scripting and audio production, but provide more control over the final product.
Some brands have specific aural branding they want to keep, whether that's an announcer's voice, actors, sound effects or music. Some brands in more regulated spaces have specific verbiage they need to include for legal reasons, and choose to produce their own spot.
In either case, you'll need to have access to recording equipment to record and cut your spots according to your podcast network's specifications. (We can help!)
Sponsoring or Underwriting a Podcast
A host-read or programmatic ad campaign is usually the first step brands take as they enter the podcasting arena, but sponsorship offers a third option that builds even deeper ties with a show's host and audience.
Sign up for more of our digital marketing insights, direct to your inbox
Emailed monthly. We won't sell or share your information.
Many hosts create shows on their own dime and use podcast advertising to pay their expenses. Show sponsorships and underwriting offers can help hosts produce high-quality content without having to worry so much about paying the bills.
In exchange, your brand can often receive billing in the show's title and mentions throughout a show, in addition to host-read ads.
Sponsorships can be expensive, but they also represent a valuable connection point for brands. Audience members, most of who listen for free, appreciate a company's willingness to support podcast creators. That, in turn, builds a positive opinion of your brand over time.
How Do I Actually Advertise on a Podcast?
When it comes to developing a strategy for your podcast advertising campaign, it should follow the same principles as your brand's overall sales funnel.
Start with brand awareness efforts, then move further down the funnel after listeners have become more familiar with who you are. Plan out promotions and incentives that tie into your other marketing efforts, such as having listeners visit your landing pages or email you for a personal demo.
It's true that the journey from podcast ad to purchase can be a hazy one, depending on how customers convert, but track all of your digital conversions and look for adjustments with each new round of ads you run.
The good news is that modern podcast ad technologies provide more control and targeting precision than ever before, allowing your team to make better adjustments on the fly. Here at Informatics, we use a service called AdvertiseCast to manage our clients' podcast advertising efforts.
With AdvertiseCast, we are able to deploy host-read and programmatic podcast ads across more than 3,000 unique shows and 170 million monthly listens. It can serve up dynamic ads based on a variety of factors, including:
Listener demographics
Locations/markets
Genre/category of show
Behavioral activity
AdvertiseCast can also provide detailed reporting on your ad spots, including episode information, download counts and A.I. time-stamped transcribed air checks, so we always have the most up-to-date info on how your ad campaigns are faring.
Podcast advertising is typically sold in CPM, or the cost per 1,000 impressions. Current rates range from $10-$25 for host-read ads, but those prices can be higher for the biggest shows, hyper-targeted shows or those targeting the B2B sector.
When you're ready to build your next podcast advertising campaign, our digital marketing gurus can help. Reach out to our team today or read more about our media production capabilities here.
Ready to start podcast advertising?
Our digital marketing experts will generate results you can hear!
---