Have you ever been clicking around Google Analytics and come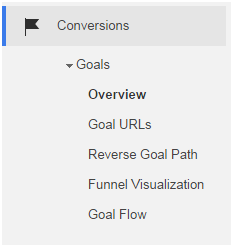 across the "Goals" section? The Goals section is one of those hidden gems that gives you the ability to customize Google Analytics for your needs.
What are Goals?
The Goals section is what it sounds like; you can set up custom goals that you want to track. A goal can be any of the following:
Visit of a specific page
Staying on the website for a specific duration of time
Visiting a number of pages during one visit
Events including video plays, link clicks, file downloads, etc.
Why are Goals Important?
Setting up a goal is important because it gives you the ability to track performance for a campaign or metrics that are specific to your organization. Once you have set up goals, you will have access to additional metrics such as:
Conversion Rates: what percentage of users actually achieved the goal?
Goal Flow: This report will show you how a user got there. This is especially helpful for websites that sell products. For example, you can identify the "Thank You" page after a purchase as the goal. This allows you to track the process a user took.
Completion over Time: Easily view the number of goals completed. You no longer have to go to 3 different places to get 1 number.
How to Add Google Analytics Goals
Now that you are hooked and ready to start using Google Analytics Goals to track your website performance, here are a few easy steps to set up your first goal:
Login to your Google Analytics account
Select the "Admin link at the top of the page

Once you have selected the account and property, select "Goals" in the "View" column
Click the "+New Goal" button and complete the form

Once you have set it up you can test it by going to the "Real-Time" report section. Once the goal has been met it should show up here.
If you need help setting up Google Analytics Goals, contact Informatics.
photo credit: Search Engine People Blog via flickr cc
---