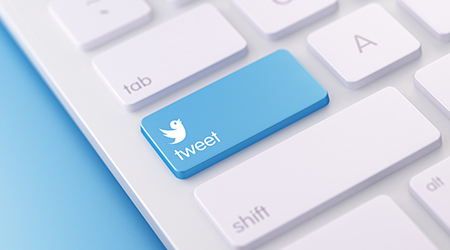 Twitter offers great analytics for businesses; however, there are two major downfalls. First, you are still only able to access Twitter Analytics if you have advertised on twitter in the past or have created and used a Twitter Card. Unfortunately, not all of us have that in our budget, and thus, we are unable to see how our tweets are performing. Second, Twitter Analytics focus on the performance of your posts, not on how they drive traffic to your website. And website visits are the end goal, after all.
In order to gain some awesome insights into your Twitter account, specifically in regard to how it drives traffic to your website, spend some time exploring Google Analytics. Here are five metrics in Google Analytics that will shed some light on the performance of your Twitter account.

Acquisition>Social>Landing Pages
The landing pages section reveals the most visited landing pages from your social networks. You can even click on each particular landing page and see the number of visits from each individual social network. This is helpful in seeing how particular content performs on your different social sites. For example, you may discover that infographics perform much better on Twitter, while blogs perform better on Facebook. You may also learn something about the time of day you are posting to your Twitter account based on the visits your links are receiving.
Users Flow
Acquisition>Social>Users Flow


In the Users Flow section you will find a detailed flow chart of the typical path a user takes on your website, when entering from a social network. The flow is broken down by each particular social network so that you may track the typical path your Twitter followers take and compare to Facebook. By this we are referring to where they enter, where they tend to drop off, and which pages they travel to after their initial entry. If you find that your followers are dropping off after the first page they enter on (i.e. your blog), consider adding a CTA (call to action) here, such as a "Contact" button.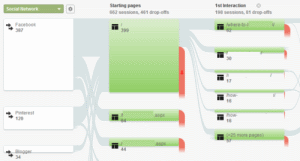 Acquisition>Social>Conversions
If you have already set up goals in your Google Analytics account, you will be able to track the success of these goals in regard to social networks under the "Conversions" section. However, if you have not, you will need to go to "Goals" under the Admin bar to set some up. Goals are what you consider to be conversion paths on your website. This could be clicking on a particular link, completing the contact form, or just reaching a specific page on your site. Since Twitter is great for generating leads, you may want to consider setting up a goal for your contact form. You will then be able to track the number of visitors who came from Twitter and completed your contact form.
Google Analytics is a great tool for monitoring your website statistics, especially in regards to social media. Although we only covered 4 metrics, Google Analytics offers a wealth of additional tools and reports for social media. If you need assistance setting up Google Analytics or monitoring your Twitter stats, contact Informatics.
Photo credit: Geralt via pixabay cc
---