Are you an e-commerce company looking for a new way to promote your products on social media? Well then we have good news for you! Last week, Facebook launched Product Ads. According to Facebook, these new ads are "a solution designed to help businesses promote multiple products or their entire product catalog, across all the devices their customers use".
As the largest social media platform with nearly 1.4 billion users, there may be great potential for advertisers looking to reach wider audiences. Companies selling products online may find these new product ads beneficial in 2015. If you have an e-commerce site, you might want to consider budgeting for Product Ads this year, in order to showcase more of your products on platforms beyond your website.
It is important to keep in mind that Facebook ads may not be for everyone. There is no harm in trying them out for a little while and canceling your ads if you discover the ROI isn't what you thought it would be.
Facebook Product Ads will allow businesses to upload their product catalogs to Facebook and then either manually create ad campaigns or hand the reigns to Facebook and let the platform automatically create campaigns.
The Custom Audiences feature will allow advertisers to automatically reach people who visited their website or reach people based on specific interests, demographics, locations, and more. Advertisers can also curate their ads by showcasing their best selling products or creating a multi-product ad that acts as a sort of carousel, highlighting the different features of 1 product with up to 5 images (see Shutterfly image below).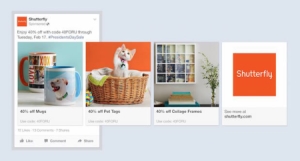 According to Adweek, "like Google, Facebook's system will also recognize when products are out of stock and stop advertising them."
"Product ads are available today in the API through Facebook Marketing Partners and will roll out in Power Editor over the next few weeks." - Facebook
If you need assistance with managing your social media campaign or utilizing Facebook's Product Ads, contact Informatics.
---