The name of the game is Mobile Markets and Artificial Intelligence. This is no surprise since Google has been improving their machine learning programs on search engines for years and now more than 50% of searches come from mobile devices. There are many changes coming over the next year from Google on their AdWords platform (Search Engine Land). Marketers are keeping their eyes out for the following updates to incorporate into their efforts:
Targeting Updates
Mobile devices have been changing the way that consumers behave. Google has broken down the way that consumers interact with devices along the consumer journey into 'micro-moments':
I-want-to-know Moments
I-want-to-go Moments
I-want-to-do Moments
I-want-to-buy Moments (Google)
Brands can use this to create their strategies, but now there are two major updates that will allow us to customize how we reach consumers in these moments.
1. Custom In-Market Audiences: Display Advertisers have been able to use existing 'in-market' audiences created by Google to reach people in the verticals that we sell. Now, marketers will be able to create their own custom in-market audiences based on keywords we expect consumers to use when they are ready to purchase our products and services.
2. Life Event Targeting: Life events such as buying a house, preparing for a wedding, or having a baby change consumer buying behavior dramatically. Google is building artificial intelligence to recognize online behavior that indicates when consumers are entering these life events and the AI will take into account cultural differences!
Carousel Ads
They are everywhere else, and now Google has them too! This new feature is being tested in the new vehicle market and is currently only available on mobile. The ads are visually appealing and very prominent. If these types of ads are released into other marketing channels, they will change the game as the ads appear above both Search Engine Results and other Search Ads. Below is an example of a search ad for a Lincoln MKX, most car manufacturers have these running now: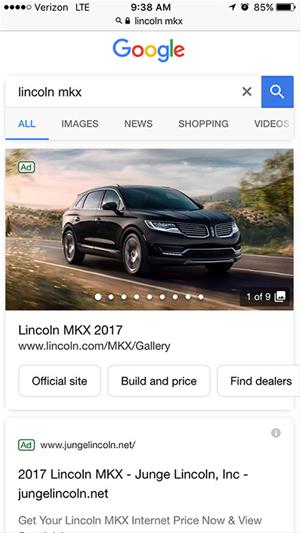 In order to stay ahead of the curve, keep a close eye on Google's ever-changing advertising techniques. For more information on keeping up to speed and optimizing your digital advertising trends, contact Informatics.
---